Bold prayers and bold steps. That's what our church lives by. Last year I took a bold step enrolling myself back to school. It has always been in my mind and I had discussed it several times with my husband. I was just too worried about adding additional expenses and if I can balance school and family life. I have been a stay at home mom for 8 years now. I am grateful that we were able to have this opportunity of being able to stay at home.
After some careful thoughts and considerations, prayers, and discussions...we decided that it will be great for our family's future if I will pursue a Master's degree. It's been a year and I am glad that we took that bold step. There were hectic days and a period of adjustment. I am an online student so I can set my own schedule and hold myself accountable. With a year of online schooling under my belt, I have gathered ten top tips for all moms who are "back to school moms" or moms thinking about going back to school to further pursue their dreams.
1.
Organize your school lectures, textbooks, and notes.
It is important that you keep all of your lecture notes, textbook, and other printed materials in one place. You can organize them by course or per week. I choose to organize my materials per course. This way, you will also build references for future assignments and of course it will be easier to go back and review if all of your study materials are in one place.
I purchased my plastic file container from Office Depot but you can also purchase this box from Amazon.
SEE HERE
.
You can purchase hanging folders at Office Depot, Target, Walmart, or Amazon. Label them or organize them in a way that will make sense to you. I found it easier to organize my files, lectures, and notes per course.
2.
Keep a schedule. (Cozi)
With all the school activities and deadlines with our children's school, my own school deadlines, their after-school activities, and all other events- there is no room for a mistake! Well maybe, every once and a while, we slip. Our family uses the
COZI
app. I have it on my laptop, my cell phone, and my husband's phone.
Why do I love it? First, my husband can keep track of all of our schedules with his app just in case I fail to remind him. You can assign a color to each family member.
You can view recipes and make lists! Speaking of lists, I love that I can make different lists for shopping such as a Costco list, Target list, and Aldi list. My husband can also add to the lists. And if I need him to stop by the grocery store to pick up some stuff, he can just easily view it in the cozi app.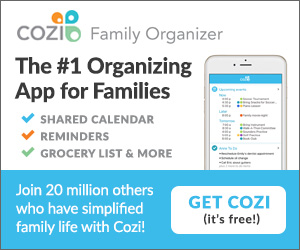 3. Use simple meals and meal prep.
The meal prep became harder when I started going to school. I was bombarded with several chapters of books to read and bombarded with due dates (essays and assignments). It became a struggle when our family decided to slowly transition into vegan meals. Truthfully, some days I am ahead with meal planning and meal prep. Some days, I just do my best. The key is being able to let things go. Let me give you an example, every Wednesday is such a hectic day for me. It is the essay submission day. I do not have the time to cook elaborate meals. If a night calls for a cereal night, by all means, have a cereal night. If a dinner calls for just a vegan bean and cheese burrito night, then vegan burrito it is.
If you need help with your grocery budget and affordable healthy meals, check-out the
Grocery Budget Makeover
.
4. Have a designated study desk.
This is important not only for keeping your stuff all in one place but it can also be a space for inspiration. If you find it easy to study at your dining table and do not find it necessary to have a desk of your own, that works too! If you decide to have a study table, minimally decorate it with things that will inspire you. Moms have a lot of things going on in their mind. I know ( based on my own experience) that going back to school as a mom even if you are a stay at home mom or a working mom can be overwhelming! We just have a lot of "tabs" open in our mind. Sometimes doubt and uninvited stress will creep in. I have "reminders" and sometimes prayers written on post-its.
5. Give yourself a break.
Don't forget to take a break. Have coffee with your friends. Take your husband or special someone to a date. Pamper yourself . Take a family break night. If you have a tight budget, you can still pamper yourself or have fun with your family on a tight budget. I personally love and recommend
Groupon
.
We were able to take our kids to Legoland using Groupon. I recently purchased a salon package, for $25 using Groupon. What's even more amazing is that they always have a discount or additional coupon on top of the great prices.
How about a date night break with your husband or special someone?
Dating Divas
have a TON of ideas to spice up your relationship and marriage. This is essential as couples tend to lose focus of what is really important in their lives.





6. Find a support system other than your own family.
Tribe. You need a tribe. The tribe that will lift your spirits up, make you laugh, and reminds you why you started anyway. The tribe that you can freely be yourself. Unjudge.
7. Hydrate and eat healthy.
Well, I know how time can slip by our hands. But do not forget to stay hydrated and to snack smart.
8. Keep your family events, bill pay, and appointments organized.
Managing a home can be overwhelming. With schedules to coordinate, meals to plan, and bills to pay, your readers can sometimes feel like they can't keep up with it all. The key to a home that runs smoothly is organization! All your readers need is a little determination and the right tools. The
Family Organization Kit
is what they need to help their family have more order and less chaos!
9. Have a chore schedule.
Keep a chore schedule and keep it! I find it productive if every day you have a designated chore. My schedule consists of: Monday- laundry (folded and put away), Tuesday-Bedroom, Wednesday- living room or front room, Thursday-kitchen and meal plan, Friday-laundry, bill play, and shop. Saturday- free day and Sunday- prep for the week.
Here's a freebie for you, a blank chore template.
Download
and print on 8x10 paper (no strings attached)
10. Follow inspirational individuals.
I do have a love and hate relationship with social media. Social media can bring out the best and worst on people. It can give you a fake sense of what life should be. It gives you a dishonest take on life and it amplifies insecurities. It can also foster the wrong attitude by suddenly making you feel that what you have is not enough. The comparison is indeed the thief of joy.
I highly recommend following individuals that are real, raw, and can inspire you. Some of the inspiring individuals I follow are Glennon Doyle, Ann Voskamp, Lysa Terkeurst, Brene Brown, Shaun T, and Autumn Calabrese.
Lastly, it will take time to find your own groove. There will be a period of adjustment. Just always remember why you went back to school momma. It will not be easy but it will be worth it.
Don't forget to pin and share!